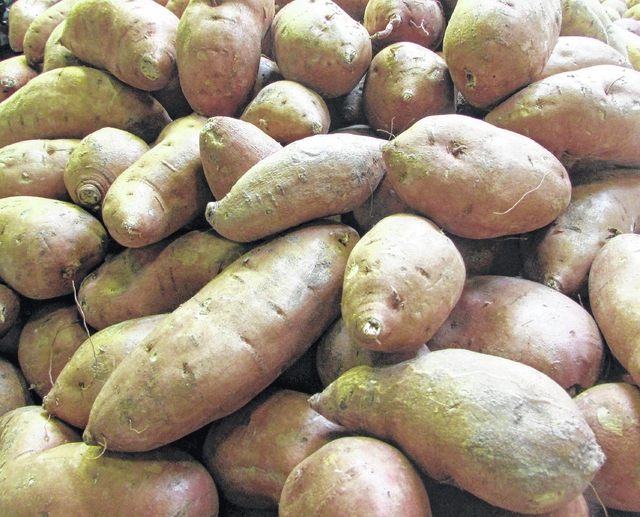 Fall is officially here and that means pumpkins are in the spotlight. However, the humble sweet potato, the state vegetable of North Carolina, can also be a means to create a comforting meal and delicious dessert.
Fall produce may not be as glamorous as summer produce such as luscious home-grown tomatoes, but it can be good and good for you. Sweet potatoes are far more nutrient-rich than white potatoes. They are an excellent source of vitamin A, a good source of iron and are claimed to have anti-inflammatory benefits. Sweet potatoes are much lower on the glycemic index than white potatoes. An Irish potato baked and peeled is 83 on the index but a boiled sweet potato is only 44 which means that it causes less fluctuation in blood sugar. Good news for diabetics.
Sweet potatoes aren't just for Thanksgiving casseroles. Try them mashed, baked, stuffed, fried or used any way that you would prepare white potatoes. Also useful in desserts, sweet potato pies, breads and cupcakes are every bit as good as their pumpkin equivalents.
Oven-roasted sweet potatoes
7 cups (1-inch) cubed peeled sweet potatoes (about 2 pounds)
Cooking spray
1 tbsp. olive oil
3/4 tsp. salt
1/2 tsp. black pepper
4 cups coarsely chopped onion
1 tbsp. butter, melted
Preheat oven to 325°F. Place sweet potatoes in a shallow roasting pan coated with cooking spray. Drizzle with oil. Sprinkle with salt and pepper; toss to coat. Bake at 325° for 30 minutes. Add onion; stir well. Bake an additional 30 minutes; remove from oven. Preheat broiler. Drizzle sweet potato mixture with butter; stir to coat. Broil 10 minutes or until browned.
Tex-Mex stuffed sweet potatoes
2 sweet potatoes
2 tbsp. extra-virgin olive oil
2 small red onions, finely diced
2 cloves garlic, minced
1 small red chile pepper, minced (or jalapeno)
1 ear corn, kernels removed
1 tbsp. ground cumin
1 tbsp. chili powder
2 cups baby spinach
1 (14.5 oz) can black beans, drained and rinsed
1/2 cup plain Greek yogurt
1 cup shredded cheddar cheese
1 pinch coarse salt and freshly ground pepper
1 scallion, finely sliced
Preheat oven to 350°F. Place sweet potatoes on a baking sheet and bake for about an hour and 20 minutes, or until potato is cooked through and can be pierced with a fork (check at the 60 minute mark). Set aside to cool while you prepare the filling. Heat the oil in a large skillet over medium high. Add the onions and sauté 3 minutes. Add the chile and garlic; sauté another minute. Add the corn and sauté another 2 or 3 minutes. Add the seasonings and sauté 1 minute. Add the baby spinach and sauté to wilt, 2 minutes. Season with a good pinch of salt and pepper. Remove from heat. Slice the sweet potatoes in half lengthwise, and scoop out the innards with a spoon. Place the innards in a large bowl. Add the corn mixture to the bowl, as well as the beans and yogurt. Give a good stir to combine until smooth. Evenly spoon the filling back into the sweet potato boats and top with shredded cheese. Switch the oven to broil, slide the potatoes back in until the cheese is browned and bubbly. Garnish with sliced scallions and serve immediately.
Sweet potato cupcakes
1 1/2 cups firmly packed brown sugar
1/3 cup butter, room temperature
2 eggs
1 tsp. vanilla
2 3/4 cups all purpose flour
1 tbsp. baking powder
1 tsp. pumpkin pie spice
3/4 tsp. salt
3/4 cup whole milk
1 cup cooked sweet potatoes
1/3 cup bourbon
Preheat oven to 350°F. Line cupcake trays with 24 baking cups. Whisk together flour, baking powder, pumpkin pie spice and salt in a large bowl. In another large mixing bowl, mix brown sugar, butter and eggs until fluffy. Add sweet potatoes and vanilla. Mix well. Add 1/3 of flour mixture to sugar mixture until combined. Add bourbon. Add second 1/3 of flour mixture. Add milk. Add final 1/3 flour mixture. Mix well with each addition. Fill baking cups. Bake for 12-15 minutes or until done. Cool completely.
Classic sweet potato casserole
4 cups sweet potato, cubed
1/2 cup white sugar
2 eggs, beaten
1/2 tsp. salt
4 tbsp. butter, softened
1/2 cup milk
1/2 tsp. vanilla extract
Topping:
2 cups mini marshmallows
1/2 cup packed brown sugar
1/3 cup all-purpose flour
3 tbsp. butter, softened
1/2 cup chopped pecans
Preheat oven to 325°F. Put sweet potatoes in a medium saucepan with water to cover. Cook over medium high heat until tender; drain and mash. In a large bowl, mix together the sweet potatoes, sugar, eggs, salt, butter, milk and vanilla. Mix until smooth. Transfer to a 9×13 inch baking dish. Sprinkle with mini marshmallows. In medium bowl, mix the brown sugar and flour. Cut in the butter until the mixture is coarse. Stir in the pecans. Sprinkle the mixture over the marshmallows. Bake 30 minutes, or until the topping is lightly brown.
Crispy Baked Sweet Potato Fries with Blue Cheese Dressing
5 pounds sweet potatoes (about 7), cut into 1/2-inch matchsticks
1/3 cup olive oil
1/2 cup flour
1 tbsp. salt
For the Blue Cheese Dressing:
1 cup sour cream
1/2 cup buttermilk
1/2 pound blue cheese, divided
2 tbsp. minced yellow onion
1 tbsp. fresh lemon juice
1 tbsp. Worcestershire sauce
1 tsp. minced fresh garlic
1/2 tsp. salt
1/4 tsp. hot sauce
Preheat oven to 450º F. Line 2 baking sheets with aluminum foil; spray with nonstick cooking spray. In large bowl, combine sweet potatoes, oil, flour and salt; toss until well-coated. In a single layer, spread sweet potatoes on foil without overcrowding. Bake until cooked and crisp, about 20 minutes, stirring halfway through. Repeat with remaining sweet potatoes.
To make Blue Cheese Dressing: In a blender, place sour cream, buttermilk, half of the blue cheese, onion, lemon juice, Worcestershire, garlic, salt and hot sauce; whirl until smooth. Remove to bowl. Add remaining cheese; mix with spoon.
Ginger Orange Sweet Potato Smoothie
1 medium baked sweet potato, cooled and peeled
1/2 tsp. orange zest
1 medium navel orange, peeled after zesting
1 medium apple, cored
1 banana, peeled
1 tbsp. maple syrup
1/2 tsp. grated fresh ginger
1/4 tsp. ground cinnamon
Puree all ingredients in a blender until smooth. If desired, add a little water.
Nominate your favorite cook or send your favorite recipes to be featured to [email protected]