Get Forbes' top crypto and blockchain stories delivered to your inbox every week for the latest news on bitcoin, other major cryptocurrencies and enterprise blockchain adoption.
THREE MAJOR CORPORATES BUYING CRYPTO IS A TREND
Forbes broke the story that $10 billion Stone Ridge Asset Manager purchased $100 million worth of bitcoin to make it the firm's "primary treasury reserve asset." This announcement follows recent news from MicroStrategy ($425 million) and Square ($50 million) converting portions of their financial reserves to the original cryptocurrency.
Furthermore, Stone Ridge will store the bitcoin with a subsidiary, New York Digital Investment Group (NYDIG), which recently announced a $50 million growth equity fundraise led by Fintech Collective, with Bessemer Ventures and Ribbit Capital participating, bringing its total funding to $100 million.
BITCOIN GETS ITS GROOVE BACK, PASSING $11,000
Perhaps on the back of major corporates diving into bitcoin, it has broken out of weeks of sideways trading to regain an upward trajectory. Other fundamental factors driving this growth include fears about uncertainty stemming from the upcoming election and concerns that a Covid-19 resurgence across Europe and other key geographic areas will slow the economic recovery.
Some technical analysts believe that since bitcoin passed a resistance barrier of $11,200, it could help push the Bitcoin price towards the August highs of around $12,400 in the medium term.
HAPPY FIFTH BIRTHDAY ENTERPRISE BLOCKCHAIN!
Development of enterprise blockchain can sometimes seem slow, but that is just because a lot of time and energy has been spent on a one-time foundational infrastructure build-out. Costs incurred once, but from which we will benefit many-times over in the future. For instance, the recently-developed Spunta Banca DLT platform, driven by ABI, the Italian Banking Association and built on Corda, replaces the reconciliation process for interbank transactions in Italy and has more than 100 banks in production. It is very exciting to see what will happen in the next five years.
Forbes is now accepting nominations for its annual Blockchain 50 list from companies based anywhere in the world. Past winners include Facebook, Twitter, Alibaba, Royal Dutch Shell, Walmart and many more.
DON'T CALL IT A CURRENCY COLD WAR
While tensions are certainly growing between the two countries, China and the U.S. are not involved in a Cold War for monetary supremacy. In truth, China's efforts resemble an insurgency, where it uses unconventional tactics and weapons whose effectiveness may not be fully appreciated by the incumbent power. In this case, China's superiority in fintech and its forthcoming sovereign digital currency are just such weapons.
It is important to use a proper framework to evaluate China's actions and successes so that investors can predict the future utility of the dollar and other traditional safe haven assets in their portfolios.
U.S. DEPT OF JUSTICE AND IRS TURN THEIR FOCUS TO CRYPTO
The Department of Justice recently released a report that served as a "Cryptocurrency Enforcement Framework" as part of the Attorney General's Cyber Digital Task Force. The detailed report includes several key takeaways that shed substantial light on its thinking and provides indicators regarding how it will deploy its resources to prevent crypto crime.
For instance, it is clear that while the DOJ appreciates the benefits of crypto and distributed ledger technology, as of right now it sees the innovations as more of a threat than benefit or opportunity. Additionally, special attention is focused on privacy-preserving technologies or cryptocurrencies such as monero and mixing services.
CRYPTO MARKETS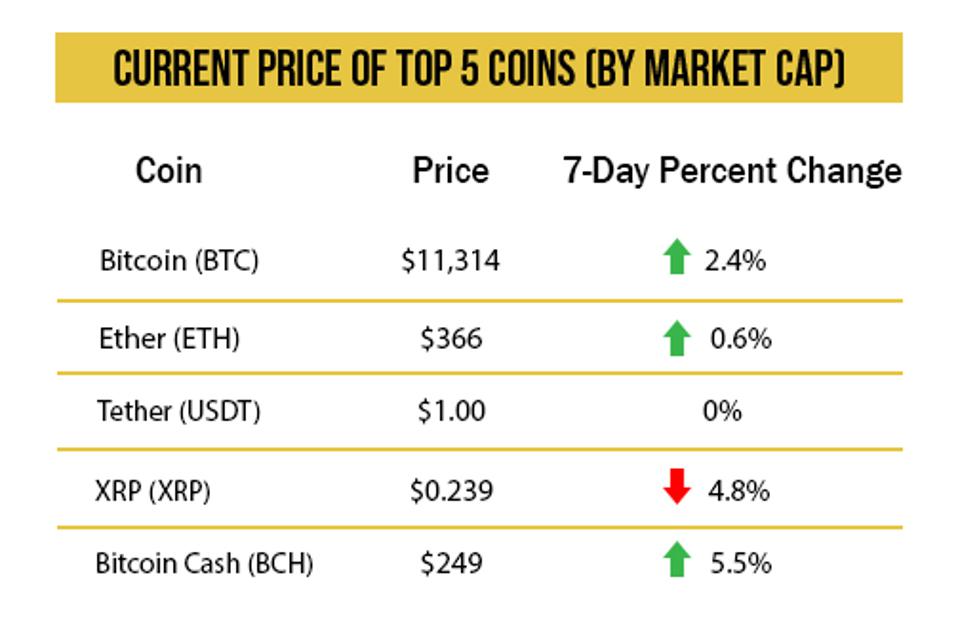 ELSEWHERE
Coinbase Received Over 1,800 Law Enforcement Information Requests in the First Half of 2020 [CoinDesk]
JPMorgan believes more payment companies will enable bitcoin purchases similar to Square's Cash App [The Block]
How Much Bitcoin Does it Take to Break Into the 1% Club? [Decrypt]