Bitcoin just rocketed above $11,000 following the recent Square news, and DeFi tokens everywhere had a significant bounce. As well as Bitcoin has done, altcoins have outperformed the top crypto asset prompting another intraday fall in dominance.
Interestingly, a deeper review of the DXY dollar currency index's relationship with altcoins has uncovered a bizarre correlation between BTC dominance, and the dollar itself. We're diving into why this might exist, and what this could mean for the greater cryptocurrency space in the months ahead.
Bullish Bitcoin Sends Altcoins Flying, But Is It Due To The Dollar Dropping?
The year-long DeFi uptrend, had Ethereum and ERC20 tokens outperforming Bitcoin by a large margin, causing BTC dominance to slide for the first time in years.
Weeks ago, that trend started to reverse, and DeFi tokens dropped nearly 60% across the board. A top asset manager that predicted Bitcoin getting trounced by Ethereum and its brethren now says this is "done" for the time being. But as soon as Bitcoin burst above $11,000 today, altcoins became twice as bullish.
Cryptocurrencies are highly volatile due to their scarce supply, yet low liquidity, and due to valuations being driven primarily by speculation. When dollars flow into altcoins, they move a lot faster than in Bitcoin because of its large market cap.
Related Reading | Analyst: Sidelined Capital Enough To Push Bitcoin To $1 Trillion Market Cap
Weakness in the dollar could be responsible for the sudden surge in altcoins. More stimulus puts the greenback at risk for further decline, and hard assets like crypto are spiking as a result.
Oddly enough, however, this recent trend has also revealed a strange correlation between BTC dominance, and the dollar itself.
BTC.D Weekly Chart Example | Source: TradingView
Bizarre Correlation Between DXY Index And BTC.Dominance Over Crypto
The weekly BTC.D chart above as calculated by TradingView, does a solid job of showing when sentiment screams "altcoin season," or "altpocalypse" based on the ebb and flow of Bitcoin's weight against altcoins.
Related Reading | DXY Dollar Index Fractal Suggests An Incredible Altcoin Season Is On The Horizon
The chart also shows the sharp rise (a fall in BTC.D) in altcoins that took place in late 2017 into early 2018. A fractal on the DXY dollar currency index compared to the last altcoin season, uncovered a bizarre correlation between BTC dominance, and the dollar itself.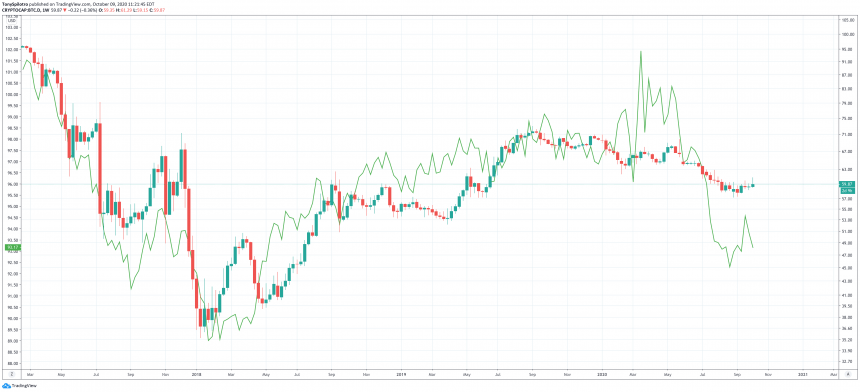 BTC.D Versus DXY Weekly Chart Correlation | Source: TradingView
When the DXY line chart is juxtaposed alongside Bitcoin dominance, a very similar pattern plays out – until recently. There is extreme volatility and deviation in the DXY itself compared to dominance, after tracing along perfectly for years.
Altcoins perform well during dollar weakness, even more so than Bitcoin according to what the correlation suggests. If this is true and more stimulus is on the way. A very powerful altcoin season could be right around the corner.
Featured image from Deposit Photos, Charts from TradingView