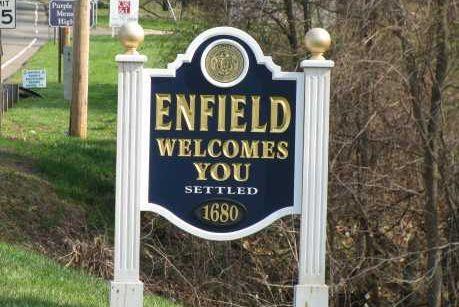 ENFIELD — With Massachusetts Mutual Life Insurance Co. announcing plans this week to lay off 82 employees from its Enfield facility, Mayor Michael Ludwick realizes there will be a ripple effect on the local community.
Ludwick said Friday that, of course there will be an impact on the local economy when people lose their jobs.
"They could be frequenting one of our establishments in town. There's always a domino effect, unfortunately," he said.
But Ludwick hopes the laid off employees will be able to find a job and stay in the region, adding that the economic impact is "hard to gauge right now."
The MassMutual layoffs are due to the sale of its retirement plans business, the company says in a notice provided to the state.
In the letter filed this week with the state Department of Labor, MassMutual says the separations will be effective between Dec. 21 and Jan. 4. The letter, which also was sent to Ludwick, says the affected employees at the 100 Bright Meadow Blvd. location have been notified.
The letter signed by Amy Dias, head of human relations, consulting, and talent management, notes that the company still is awaiting regulatory approval of the sale of its retirement plan business to Empower Retirement of Colorado.
Empower Retirement and MassMutual announced in September that they've entered into an agreement for Empower to acquire MassMutual's retirement plan business for more than $2 billion. Empower is based in the Denver area, but its parent's headquarters are in Winnipeg, Canada.
MassMutual had announced in February 2018 that it would be moving the 1,500 employees who worked at the 100 Bright Meadow Blvd. campus to offices in Springfield by 2021. It's unclear how many employees have been moved from Enfield. A MassMutual spokesperson recently told the Hartford Business Journal that 95% of Enfield employees have been working remotely since coronavirus pandemic restrictions began in March.
Ludwick said local officials feel for the 82 people who are being laid off and hope they'll be able to find another job quickly.
He said officials have been told that laid off employees will have the opportunity to apply for other positions within the company.
Ludwick added that, from an economic standpoint, the layoffs are unfortunate.
"Anytime there are layoffs, no matter where it is, it's obviously not a good thing for anyone's economy," he said.
Overall, Ludwick said he believes the town is "moving forward" economically despite challenges such as layoffs and that officials will "continue to market our town and bring in new businesses."
Councilwoman Cynthia Mangini said Friday that officials are always "working hard with our economic development people to bring in good businesses" and support workers.
"We can't tell businesses how to operate but we need to look out for the workers, the people," she said.
Councilwoman Donna Szewczak, who serves as deputy mayor, said Friday that Enfield has many skilled workers and she hopes members of the town's economic development team can work to replace the lost jobs.
"I think we have a good staff that are working really hard in our development services," she said. "Our doors are open and we're ready for business."