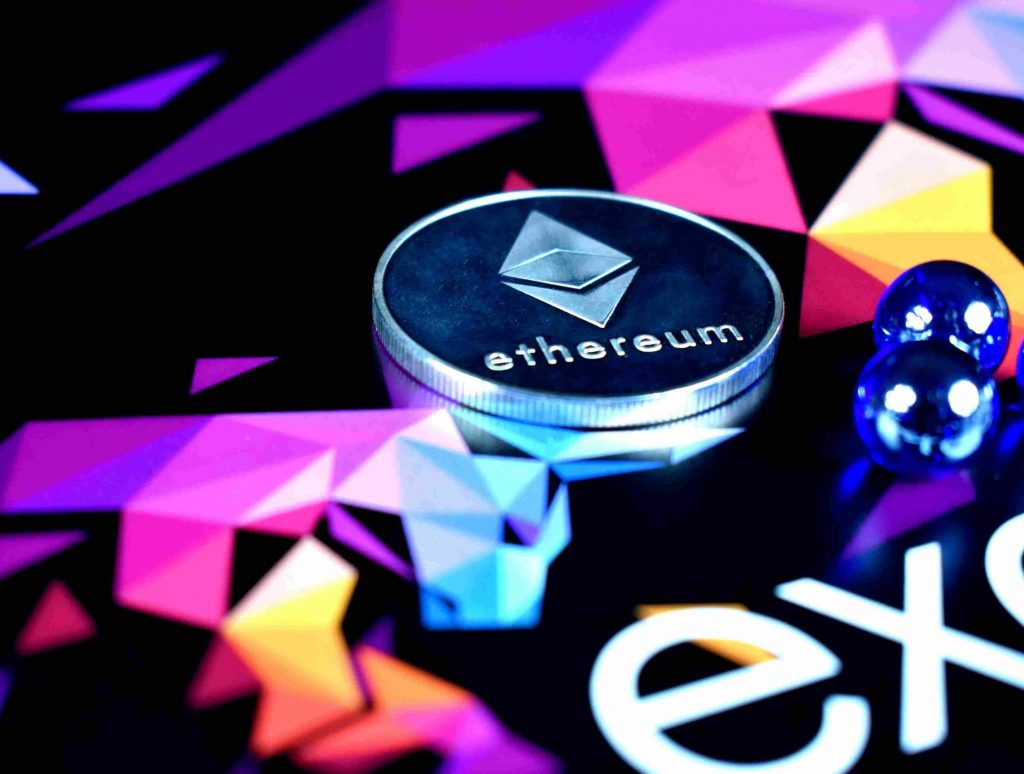 The Etheruem price has been declining from the past 30 days. In the last 7days, the ETH price has decreased by almost 3,7% and in the last 30 days, the price has decreased by almost 1.6%. Ethereum price is sitting at $346.95 (-1.75%) at the time of writing this article on October 06, 2020. Will ETH price recover? Let's take a look at it in more detail.
Ethereum Price Analysis: ETH Price Short-Term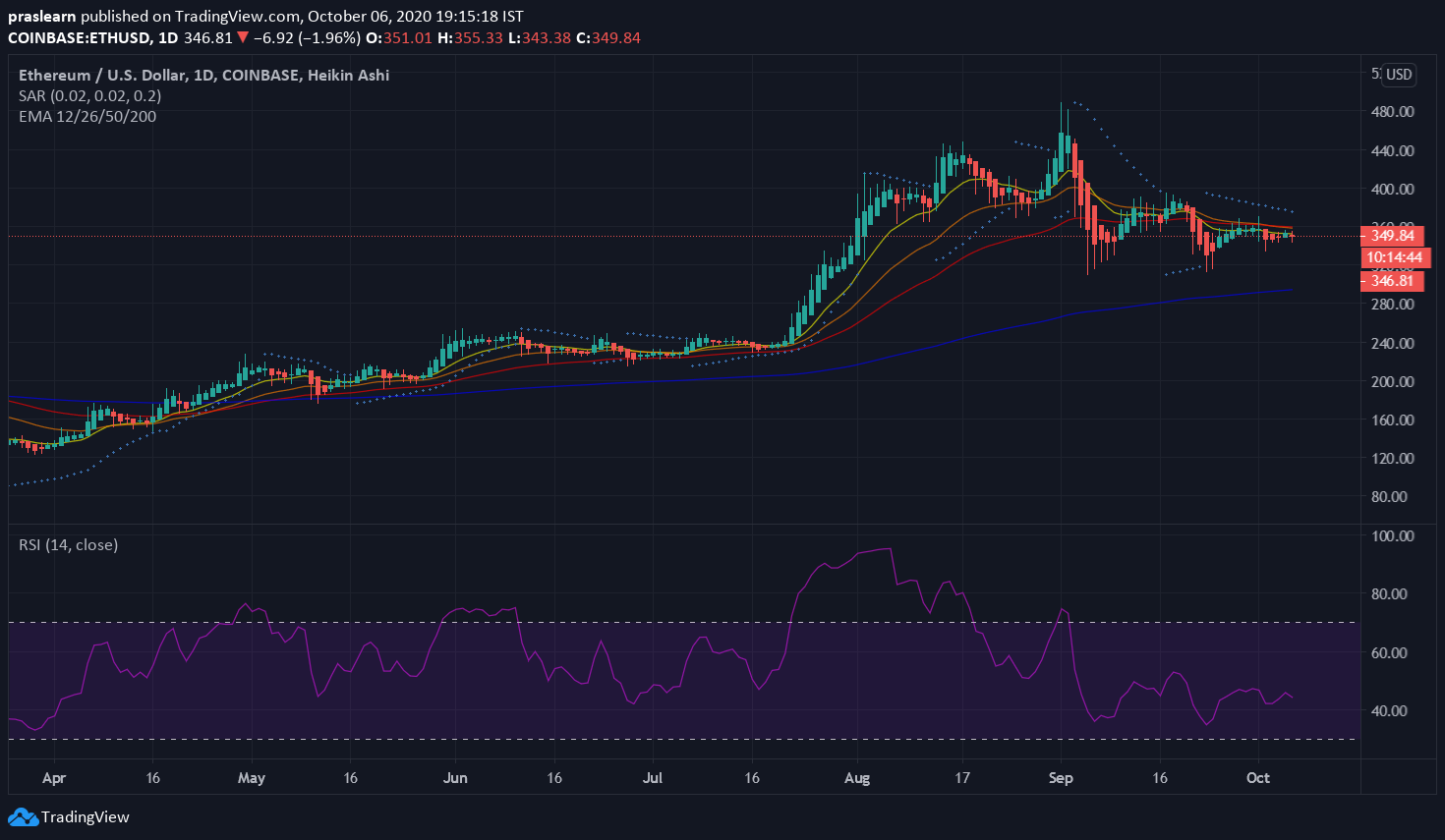 On a daily price chart, it seems that the Ethereum price has slightly displayed the downtrend. The only positive thing here could be that ETH has been able to defend the $342 mark and it is trying to climb back above $350. The most critical level could be sitting at $355 but if we closely observe the daily Parabolic SAR chart then it slightly looks promising. We can see that some dots have formed below and above the price and are not declining much in a sloping pattern, this could suggest an uptrend for the Ethereum coin price in the short-term. The key metrics are as follows:
Price $346.95
24hr Change -1.75%
24hr Vol $427,860,105
Liquid Marketcap $38,924,348,308
Liquid Supply 112,302,740
Ethereum Price Analysis: ETH Price In Long-Term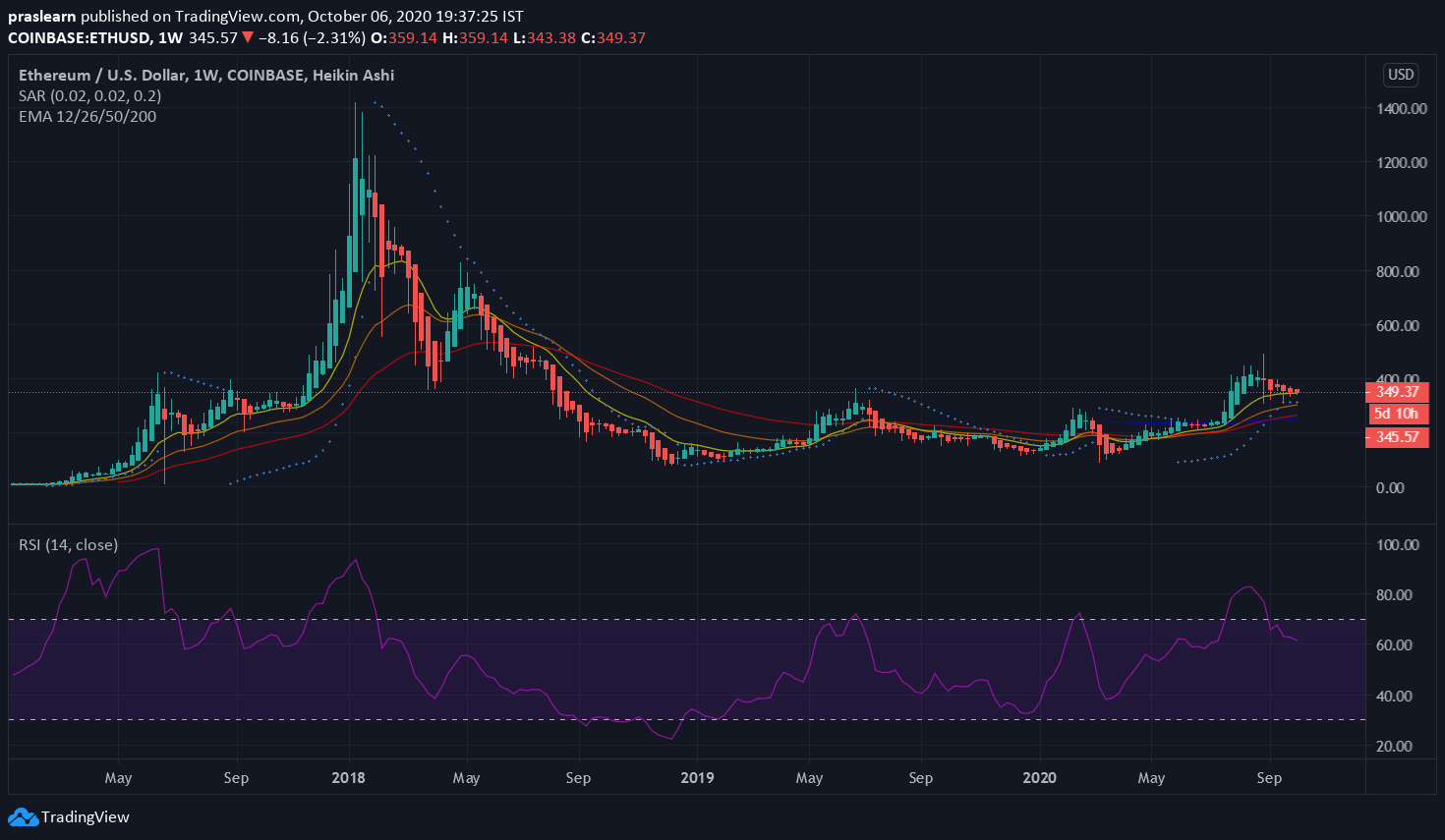 Now, if we closely observe the Ethereum price weekly chart then its long-term could be extremely bullish. The uptrend could be healthy as the last low is set around $223. Any level above $223 could be a higher low and a resumption of the uptrend. Also, the bulls have been strong to keep the 12-EMA on numerous occurrences. The RSI was considerably overextended but seems to be cooled off now. Overall trading volume is lessening, this could be a bullish flag as a pullback is more effective.
The only thing here to closely observe is the weekly Parabolic SAR chart. Here, we can see that some dots have formed below and above the price and they are declining in a sloping pattern, this could suggest a downtrend for Ethereum coin price in the long-term. The lower dots have formed between $252.50 and $305.37 and the dots are close.
Conclusion
Now, the thing with the SAR is that it could reverse once the price reaches its level. Hence, if SAR is further from price, withdrawal in the indicator is less expected. So, right now, the SAR is close to the current ETH/USD price, which could indicate that the Ethereum price could decrease in the next few days. We wish you happy trading!
Follow CryptoTicker on Twitter and Telegram for daily crypto news and price analysis!
In order to support and motivate the CryptoTicker team, especially in times of Corona, to continue to deliver good content, we would like to ask you to donate a small amount. Independent journalism can only survive if we stick together as a society. Thank you
Instant Crypto Credit Lines™ from only 5.9% APR. Earn up to 8% interest per year on your Stablecoins, USD, EUR & GBP. $100 million custodial insurance.

Ad
This post may contain promotional links that help us fund the site. When you click on the links, we receive a commission - but the prices do not change for you! 🙂
Disclaimer: The authors of this website may have invested in crypto currencies themselves. They are not financial advisors and only express their opinions. Anyone considering investing in crypto currencies should be well informed about these high-risk assets.
Trading with financial products, especially with CFDs involves a high level of risk and is therefore not suitable for security-conscious investors. CFDs are complex instruments and carry a high risk of losing money quickly through leverage. Be aware that most private Investors lose money, if they decide to trade CFDs. Any type of trading and speculation in financial products that can produce an unusually high return is also associated with increased risk to lose money. Note that past gains are no guarantee of positive results in the future.
You might also like
---
More from Ethereum
---
The Ethereum price fell from $490 back to $340, and as of now is roaming around the golden ratio. Can …
The Ethereum price is once again displaying a slightly promising behavior. In the last 24 hours, its price has increased by almost …
Ethereum has been quite clearly the leader during the recent bull rally, ignoring some of the new DeFi projects. Looking …